A master craftsman with a flair for design excellence, Ernst Pfenninger combines the time tested Swiss techniques of gold and silversmithing with creativity, enthusiasm and passion to fashion an item that is truly unique. His desire to go beyond traditional boundaries has led to individual and exquisite creations.
Ernst is a master designer, goldsmith and silversmith. He completed both professions in Switzerland and attended the prestigious art school, Kunstgewerbe Schule in Zurich. Ernst arrived in Australia in 1973 to establish his workshop, showroom and private school. In 2003, Ernst and Sharon opened their boutique gallery style shop in Leichhardt, Studio 303 selling an extensive range of Ernst's handcrafted work.
A diverse range of materials are used giving tangible expression to innovative and unique ideas. Spectacular works are produced in customised jewellery from contemporary styles to classic elegance. Ernst's work is renowned both in Australia and internationally.
A strong alliance was formed in 1989 when Sharon and Ernst Pfenninger's business partnership began.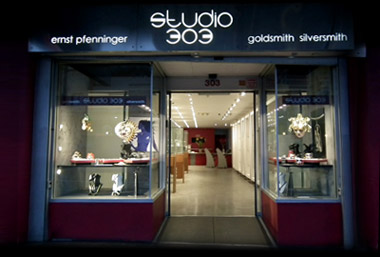 "A great inspiration for my work comes from nature - the shapes, textures, patterns, combination of materials, balance and proportions. Each piece that I design and craft has its own unique quality and intrinsic essence."
Pfenninger, 2019