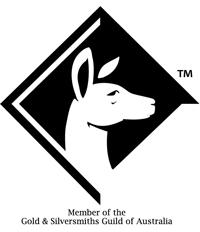 Jewellery Wax Modelling
Course
WAX MODELLING FOR PRECIOUS METAL JEWELLERY CASTING COURSE
Tutor: KATIE CAIRNS - Jewellery or Objet D'Art
When: September (dates to be advised), 2018
(30 hours tuiton)

Where: Studio 303, Leichhardt
Students:
Beginners with basic bench skills to advanced students. There will be all levels taught.


AVAILABILITY: (maximum 9)

Cost: $885 - plus waxes purchased at the workshop at an extra cost - average approx. $30 - $50.
The casting fee and cost of metals used is not included in the course fees (at student's expense) only if a casting is desired by the student. Information is supplied by Katie during the course.
Terms: The course will proceed with a minimum of 7 students (max 9 students) and if it doesn't have the numbers to run and is cancelled your payment will be refunded in full. Note: If you are paying for accommodation and/or flights to attend our course it would be worthwhile to check that either or both can be cancelled with a refund and without penalties (it may be worthwhile to insure your flights). This is only in the event that the course is cancelled or delayed.
Benefits of learning wax modelling & casting techniques:
This course has been designed to greatly enhance your jewellery work methods and is a very useful compliment to your current skills, you can also use your new techniques to make component parts of a larger process. It is also beneficial to those with limited experience. The skills learnt can be used independently of any other jewellery course. Using this process greatly expands the design potential of a practitioner in jewellery or objet d'art. You learn to make original jewellery or sculptural patterns. Form and different textures can be added to the range of possibilities used in creating original models ready for casting into precious or non precious metals.
The only requirement to attend this course is to have very basic metal jewellery techniques:
saw piercing, filing and finishing techniques (polishing & texturing). If the student has tools used in any jewellery course please bring them to class. Tools below (1. & 2.) supplied by the workshop.
A course outline and course objectives are:
The main focus of this course is to learn modelling techniques used to create forms that can be used to make a piece of jewellery or object d'art. The items can then be cast (if desired) by a professional casting company.
Working in different types of waxes a student can either carve or sculpt the wax to make a shape that could then be cast into base metals, silver or other precious metals. There are a variety of waxes that can be used to achieve a different appearance. The wax is then taken to a professional casting company (we can recommend these companies) who will cast your piece in the desired metal of your choice. Once the casting has been completed you can then finish it using a variety of finishing techniques. The student will be taught how to calculate the cost of castings. If the student does not wish to have the wax cast it is their option.
Two different techniques are explained and demonstrated:
1. We use hard waxes that are carved using jewellers' bench tools listed below:
saw piercing frames; files; sand papers and emery sticks; carving tools e.g. gravers etc, cutting burrs and a flexi shaft drill (supplied by the workshop).
2. A sculptural technique using soft types of waxes where you build up the shape, tools used are:
wax modeling tools; spirit lamp; hot wax pot; hard flat surface e.g. piece of glass (supplied by the workshop); soft waxes of various shapes, wire and sheet (purchased at the workshop as above).
You learn how to make a silicon mould. The object can be organic: fragile or robust (e.g. a leaf, shell, flowers) - or any small object in most mediums (e.g. plastic, ceramic, wood).
Simple mould frame - made in our workshop by the student.
Silicon gel (purchased at any hardware store) and releasing agent (students purchase).
---
Class Timetable:
| Day | Time | Instructor | Tuition |
| --- | --- | --- | --- |
| Friday, 4 May 2018 | 9.30am - 4.00pm (30 mins lunch) | Katie | 6hrs |
| Saturday, 5 May 2018 | 9.30am - 4.00pm (30 mins lunch) | Katie | 6hrs |
| Sunday, 6 May 2018 | 9.30am - 4.00pm (30 mins lunch) | Katie | 6hrs |
| Saturday, 12 May 2018 | 9.30am - 4.00pm (30 mins lunch) | Katie | 6hrs |
| Sunday, 13 May 2018 | 9.30am - 4.00pm (30 mins lunch) | Katie | 6 hrs |
What students are saying...


"The wax workshop with Katie Cairns was a wonderful exploration into the ancient craft of wax moulding and casting. It opened my eyes up to the amazing potential of this exciting medium.
Over the course of the workshop we learnt a variety of techniques from mould making to carving back hard wax to creating intricate sculptural pieces. I made a beautiful pendant and a chunky ring.
Katie is a down to earth, no frills teacher. Her teaching is based on decades and decades of knowledge. She offers up inspirational ideas and her instruction is clear and methodical. I respect her as a practitioner and teacher.
Overall, I had a wonderful experience learning more about this ancient craft. I can now combine my new wax moulding skills with my already established bench skills to create unique pieces. Thank you Studio 303 and Katie Crains, a worthwhile course!"
Anna Baryshev

"The wax workshops are very complimentary to the silversmithing classes. It introduces a technique that is easier to learn, allowing greater creativity earlier on for the learner.
Katie is very knowledgable, interesting and helpful. I'm looking forward to other classes Studio303 will be introducing in the future!"
James Yip
"I want to say thank you for a wonderful experience at Studio 303. Katie Cairns was a wonderful tutor of the lost wax method, mould making and metal casting. I was so relieved that the class had a friendly, casual feel as it made learning a joy, and creating an absolute delight. Katie happily shared her knowledge and experience to make our experience easier and give us a basis for continuing to create our own jewellery at home. I was very impressed with the course, and the help I received from Katie and Ernst. Thank you"
Christine De Gueron
Why Studio 303?
A great opportunity to learn from Sydney's most respected and experienced teachers
Beginners to advanced students are taught in a fully equipped authentic gold and silversmith's workshop (not a classroom)
Group and individual tuition, maximum 9 students per class or workshop
Design and create your own individual pieces fully guided through every process, at your own pace
Ability to learn from a master crafts person is "a rare gift"
Students all levels: beginners to advanced will benefit from the experience of working in a fully equipped professional workshop
---
Location:
Centrally located - rear of 303 Parramatta Road, Leichhardt (entrance Redmond Street)
Parking - good untimed street parking & council car park: 2 hour limit until 8pm (park rear to kerb)
Good bus connections - frequent buses along Parramatta Road
---
TUTOR: KATIE CAIRNS' PROFILE
KATIE CAIRNS, precious metal jewellery artist, has 40 years of experience in designing and working in precious metals and gemstones using handmade and lost wax casting manufacturing techniques. Since 1978 until today Katie has her own business, private and corporate clientele whom she is able to offer multi disciplinary strategies to create unique and original jewellery designs.
From 1971 to 1975 Katie lived in Japan and during that time she studied full time for two years at the Japan Jewellery Academy, Tokyo learning jewellery design and lost wax silver casting and metal working techniques. She also attended Sophia University, Tokyo (an international university) where she studied arts and humanities. Katie also taught English as a second language through the international Berlitz Language School.
On returning to Sydney in 1975 Katie worked in a jewellery manufacturing company in Sydney's CBD as a casting specialist using the skills, expertise and experience she attained in Japan. During that time with this company she learnt production methods, manufacturing techniques and all relevant criteria essential for the commercial production of jewellery manufacturing.
In 1977, Katie started studying in Ernst Pfenninger's School for Gold and Silversmiths for a period of up to 4 years. During this time she gained an appreciation, understanding and the skills involved in the production of handcrafting individual pieces of jewellery and silverware. She found that by having a sound knowledge of hand production and casting techniques it gave her a broad base of knowledge and experience.
Katie established her own business in 1978, The Jewellers Studio located in Sydney's CBD. She established one of Sydney's first jewellers co-operatives, accommodating four professional jewellers who rented bench space from her. At her Studio the professional jewellers shared their diverse knowledge of jewellery making, a myriad of ideas gained from local and international experiences and shared a range of techniques and unique designs. It was an environment where young jewellery designers and jewellers could begin their own businesses, sharing the costs of maintaining a studio in the CBD.
Katie has worked closely with the trade to offer specialist services in master pattern making and production including a well known pearl wholesale company where she made models for their baroque pearl jewellery collection.
Since 1978 Katie has been involved in several jewellery design exhibitions and contests in Sydney. In 1983 she won an award from DeBeers "Diamonds Today" where she created a gold brooch with cognac coloured diamonds.
From 1996 to 2013, a period spanning 17 years, Katie tutored foundation classes (beginners classes) in jewellery techniques at the Sydney Community College. During this time, she also studied at the Northern Institute of TAFE and gained a diploma in horticulture specialising in landscape design.