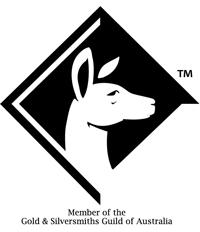 Setting Jewellery with Gemstones Workshop
Setting

Workshop

Tutor:
When: To be advised
Where: Studio 303, Leichhardt
Students: Reaonable basic skills required to Advanced Practitioners and the Trade

Cost:
Terms: The course will proceed with a Minimum of 6 students and if it doesn't have the numbers to run and is cancelled your payment will be refunded in full. Note: If you are paying for accommodation and/or flights to attend our course it would be worthwhile to check that either or both can be cancelled with a refund and without penalties (it may be worthwhile to insure your flights). This is only in the event that the course is cancelled or delayed.
A very beneficial and rewarding opportunity to extend your skills to setting your own jewellery pieces as you become more independent as a jeweller. You will be working in a goldsmith and silversmith's authentic workshop.
Course Outline & Objectives...
The purpose of this course is to introduce to the student / trade person the basics of the rub-over (bezel) setting, the claw setting.
Projects that are set by the tutor in rub over and claw settings, exercises may include:
• Bezel or rub over setting in sterling silver premade settings
• Settings made of wires, tubes (chenier) or rods
Various techniques and tools will be demonstrated during the course as well as tool adaptation and maintenance (very important). The student will get experience working with a micro motor (supplied to each of you in the workshop), a selection of burrs and polishing wheels during the setting process. The use of gravers and scorpers are explained and how to prepare them for use by cutting or grinding them to suit the hand of the user and grinding, polishing and sharpening all blades and all pushing tools.

Also explained will be how to pre-drill holes prior to setting and the care needed in making a gemstone mount of the setting.

Gemstone selection is discussed including the restrictions and dangers resulting from making poor choices of gemstones. The purpose of the cut and its finish/polish of the gemstone are explored, with attention focused on the hardness (moh hardness) of different types of gemstones and their appropriateness for the piece being made. This helps in designing the setting that needs to be made to support the stone properly. There are many reasons for choosing types of gemstones for certain types of settings, so design is critical before beginning the piece.
On completion of this course the student / trade person will have learnt:
1. Prepare, sharpen and maintain tools & equipment required to perform gem setting
2. Prepare jewellery items for gem setting including stone layout, drilling, burring and bearing cutting
3. Perform gem setting to an industry standard
This workshop is suitable for students with reasonable basic skills and trade people who would like to learn about tool preparation and setting your own jewellery pieces in an authentic workshop under the expert guidance of a professional setter with over 40 years of experience in many professional environments both as a jeweller, wax carver and setter. You will greatly improve and expand your existing skills and become more independent having the skill to set your own gemstones. There are a maximum of 7 students in the workshop, you will be taught as a group with individual attention as required by the student.
NOTE: Tea and coffee are provided
---
Course Timetable:
| Day | Time | Tutor | Tuition 20 hours |
| --- | --- | --- | --- |
| | | | |
| | | | |
| | | | |
| | | | |
---
Why Studio 303?
An opportunity to learn from Sydney's most respected and experienced teachers and practitioners
Students are taught in a fully equipped authentic gold and silversmith's workshop (not a classroom)
Group and individual tuition, maximum 7 students for this workshop
Set a range of settings to gain more independence as a jeweller
Ability to learn from a professional with over 40 years experience is "a rare gift"
Students, practitioners and the Trade learn to be more independent and set to an industry standard
Location:
Centrally located - rear of 303 Parramatta Road, Leichhardt (entrance in Redmond Street)
Parking - good untimed street parking & council car park: 2 hour limit until 8pm (park rear to kerb)
Good bus connections - frequent bus services in Parramatta Road
---
TUTOR: MARK RIDGWAY'S PROFILE
Mark Ridgway is a professional setter who has over 40 years experience in jewellery designing and making, wax carving and as a setter.
"From a very young age I had a fascination with rocks, crystals and minerals and collected them and that inspired me to seek out a jewellery apprenticeship. During high school (early 1970's) I joined the Cronulla Lapidary Club to learn how to cut gemstones. I was inspired by the beauty of crystals and in awe at how mother nature formed these amazing creations. For me, the natural progression was to learn how to make jewellery to feature these magnificant gemstones. I was very keen to explore my creativity as my whole childhoold was full of painting and the collecting of crystals and minerals and a creative impulse to explore the 3D aspects of jewellery. As a career becoming a jeweller was an obvious choice. During my four year apprenticeship I was hungry to learn as much as possible fulfilling my creative desires"
Mark started his apprenticeship in the mid 1970's at the age of 16 and trained as a jeweller at Rhon Rae Productions, Sydney. Over the next couple of years he continued to work as a jeweller at Willis and Sons before moving to Brisbane to work at Wallace Bishop where he started setting. He later moved back to Sydney in the early 1980's working at Russell W McColough Jewellers as a jeweller, wax carver and setter as his skills and interest in different aspects of the jewellery trade were expanding. At McColough there was a workshop with 5 or 6 professional jewellers and we had experienced difficulty in finding a good setter so with all my many years of experience I trained myself as a setter and did all the company's setting and became very competent and become a full time setter.
"I wanted to move away from making commercial jewellery as I became dissatisfied with the lack of personal creative pieces being made. As a setter I really enjoyed the finishing off of the piece and it becoming a piece of beautiful jewellery. I get tremendous satisfaction from exploring the many different approaches and many different styles of settings and I became very competent as a fine jewellery setter."

In the late 1980's Mark was self-employed for a few years as a setter, setting for the trade. In the early 1990's he returned to Russell W McColough Jewellers as a setter and wax carver. In early 2000 Mark worked at Canturi Jewellers as a setter for a period of 5 years. For the past 2 years he has been self employed working as a setter for the trade at the Jewellers Studio in Sydney's CBD. "I get the most satisfaction out of doing my work when I can fully contribute to the beauty of someone's finished creation. I enjoy being self-employed and it offers me a diverse variety of work."
"I am very much looking forward to teaching and passing on to others my many years of experience so that they may also enjoy the great satisfaction in setting beautiful gemstones into jewellery pieces either for their own creations of the Trade."